Saturday, October 25, 2008
So its midnight on Saturday night and im actually home because my plans got cancelled... Im bored as hell and flipping through channels like ive just drank 3 red bulls when I saw something that caught my eye.... its late so the weirder the images the better..

A woman marrying a doll.. not just any doll a life size doll that she had made to look like her... so she married a doll of herself... Amber weds Amber doll... yes the dolls name is Amber Doll damn creative let me tell ya! They even got matching tattoo's.
ONLY in vegas!

If my dating life doesnt improve I may just have to resort to having a lifesize doll of myself made... Although I wouldnt marry myself, I think that would just about kill my mother.... common law would work just fine, she doesnt have to know I'll be living with a doll right?

Whats kinda funny is she was doing a photo shoot with the doll and they were at roller rink. She dropped the doll and her entire face fell off. She even cracked an eyeball lol.. Is it wrong that I laughed at this?? I feel like its wrong lol.......................... I have issues dont i?!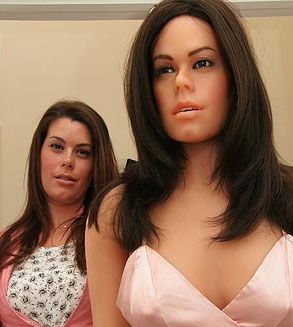 This has been the highlight of my Sat night... I know you are all so jealous of my ridiculously fabulous life right now!

Update: After googling Amber doll I saw pictures of the doll in a casket so I guess she died...

RIP Amber Doll... You will always be remembered for your silicone body, silky hair & detachable face.

Stay Pretty my pretty lil dolls ;)

xoxo Far
This entry was posted on 11:51 PM You can follow any responses to this entry through the RSS 2.0 feed. You can leave a response, or trackback from your own site.