Tuesday, November 25, 2008
It appears that my constant sarcasm, rudeness and ignoring is no match for the all mighty Mr. Pisser as he continues to think he stands even the slightest chance with me after asking total strangers to touch my no zones!
I received a text 2 nights ago from him saying "what are you saying?".... see not only did it make me think WOW even ignoring this boy isn't working but the words he chose to use annoyed me for some reason...

I mean I would have must rather preferred "what you sayin?" or "what are you doing?" or "yo shorty whats the good word" or something but "what are you saying?" just seems.... well it just doesn't flow right... a little too structured. I dunno maybe he just annoys me in general so everything he does in turn annoys the shit outta me... needless to say I didn't respond and although I'm hoping he finally takes a hint I have a feeling Mr Pisser will continue to piss on my parade every now and then!

Anyway as I was driving to work I saw a sign for Xmas Wine... what the heck is xmas wine? Is it bottled by elves? Is it blessed by Santa? Are there tiny candy cane pieces in it? (that could be yum)... I mean why call it xmas wine.. You know what I would love to see... Halloween wine, Valentines wine, St Patricks day wine, Hanukkah wine, Eid wine... err ok forget the last one its too taboo...
But come on tell me you ladies wouldn't run out to buy Valentines wine just because the bottle had little tiny cute hearts on it?!!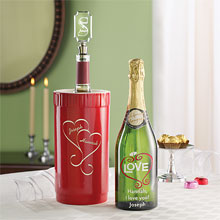 And guys you know you would be curious about Green Wine ;) Any excuse to drink green liquids right?!




Stay Pretty ;)